News & Events
Solar Water Pump installation at Gandhi Ashramam, Chatti sponsored by Prof: Ratan Mulchandani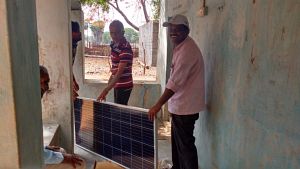 Solar Water Pump installation at Gandhi Ashramam, Chatti sponsored by Prof: Ratan Mulchandani
EK GHAR ROSHAN KAREN: Sponsored programme by Prof Ratan Mulchandani trail and installation for demonstration of SOLAR WATER PUMP at Gandhi Ashramam CHATTI by Prof Viriyala V.N. Simharao 19.5.2019. Facilitation by Asha Chinturu.
Related News & Events
Leave message for us
Have a question or need support Contact Us ?